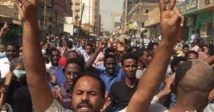 "Our demands are clear, fair and legitimate, but the new regime's old-fashioned coupists are not ready to make change," SPA said in a statement, calling for the formation of a civilian government.
The association said it would encourage protesters to resist state of emergency measures as well as a curfew imposed by the interim military council. Until recently, the Sudanese army backed al-Bashir.
Tens of thousands of Sudanese meanwhile continued a mass sit-in in the capital. Opposition groups and protesters say the military coup does not represent change, and want free and fair elections to install a civilian government instead.
The SPA statement came in response to a pledge earlier Friday by the interim council that it has "no ambitions" to permanently rule the East African nation.
"We have not come up with future solutions or an ideology, they will be devised by the people," Omar Zain al-Abdin, the newly appointed chairman of the military council's political committee, said in an address to the nation.
The United Nations meanwhile urged the interim military council to include Sudan's citizens in the process of solving the political crisis.
"I call on the government to address the people's demands," said UN human rights chief Michelle Bachelet, calling for the "meaningful participation of civil society."
Al-Abdin said that the council's role was to maintain public order, peace, security and stability during this process.
"We are the guardians of the people's change ... We are here to arrive at solutions acceptable and agreeable to the people," al-Abdin added.
On Thursday, Sudan's new rulers said the military council would last two years. But al-Abdin said Friday the timeline wasn't set in stone and promised that it would be dissolved as soon as a solution to the political crisis had been found.
Al-Abdin also announced on Friday that al-Bashir, who is wanted by the International Criminal Court (ICC), will not be extradited.
"He will be tried and judged here in Sudan," said al-Abdin. "We have our own judiciary ... We will not extradite any Sudanese citizens. It's a dark spot in our history if we extradite him," al-Abdin added.
Al-Bashir, who is wanted by the Hague-based court for severe human rights violations in Sudan's Darfur region, was deposed on Thursday following months of mass protests against his three decades in power.
He is being held at an undisclosed prison, according to al-Abdin.
The Arab League also called on the Sudanese people to hold a dialogue and observe "wisdom at this delicate time."
"The Arab League will spare no effort in backing [Sudan] to reach the hoped-for consensus," the 22-member bloc added in a statement.
African research organization International Crisis Group (ICG) warned on Friday that the danger of violence breaking out among disparate armed groups was high, and urged security forces to yield to demands for substantive change.
The current demonstration was preceded by months of peaceful street protests, which had turned bloody in recent days, with at least 21 deaths and dozens injured.
Demonstrations began in December 2018, when a sharp hike in bread and fuel prices caused a public outcry.
The oil-rich country's economy was badly affected when it split with South Sudan in 2011, and the government is currently facing another economic crisis while also battling several rebel groups.