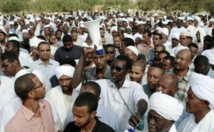 "We reaffirm our strong rejection of what happened," the group, which is a key organizer of a massive anti-government protest, said in reference to Thursday's coup that ousted the government of former president Omar al-Bashir.
"Our demands are clear, fair and legitimate, but the new regime's old-fashioned coupists are not ready to make change," SPA said in a statement.
The association said it would encourage protesters to resist state of emergency measures as well as a curfew imposed by the interim military council.