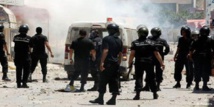 The suspect detonated the vest after security forces surrounded him near a tram stop, local media reported. He died at the scene.
There were no further casualties, according to the ministry.
Two back-to-back suicide attacks hit the centre of Tunis on Thursday, killing a policeman and injuring eight other people. One of the attackers was also killed.
Authorities stepped up security measures in response to the attacks.
In recent years, Tunisia has witnessed a string of militant attacks, most of them claimed by the Islamic State extremist group.
The North African country is widely seen as the sole democratic success story of the 2010-11 Arab Spring uprisings but has struggled with an economic slowdown and social unrest.