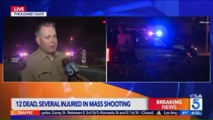 The suspect, Ian David Long, was found dead inside the bar, where 12 other people, including a police officer, were shot dead while dancing and enjoying "college country night," officials said.
Ventura County Sheriff Geoff Dean said Long had been visited by a crisis intervention team in April after a call of a disturbance at his home. Mental health professionals evaluated him and decided he didn't require further observation.
Dean said Long may have been suffering from post-traumatic stress disorder. Authorities planned to search the suspect's home in Newbury Park, California, according to news reports. A motive has not been determined, but investigators believe the attack was planned, local broadcaster CBS reported.
The Marine Corps released a statement extending condolences to the victims and their families, according to news reports. The statement said Long served from 2008-13, including active duty in Afghanistan in 2010-11.
The shooting took place at the Borderline Bar & Grill in the town of Thousand Oaks. Hundreds of people were inside dancing to country music at the time of the attack, just after 11 pm (0700 GMT Thursday), according to authorities.
The police officer who was killed, Ron Helus, was struck "multiple times" by gunfire upon entering the bar's front door and later died, Dean said. Helus had served on the force for 29 years.
"He died a hero," Dean said. "He went in to save lives, to save other people."
At least a dozen people were also injured.
Witnesses said the gunman shot a bouncer and a cashier before he opened fire near the dance floor. He reportedly threw smoke bombs into bar before opening fire with a Glock 45-caliber handgun fitted with an extended magazine.
Dean said the gun was purchased legally.
The shooting occurred less than two weeks after a 46-year-old man killed 11 people at a synagogue in Pittsburgh. The suspected gunman has been indicted on 44 counts and could face the death penalty if convicted.
Senator Dianne Feinstein called for stronger gun laws.
"What we're lacking is intestinal fortitude from congressional Republicans and President Trump to say enough is enough," Feinstein said in a statement.
President Donald Trump said in a tweet he had been "fully briefed" on the shooting and praised law enforcement officers and first responders.