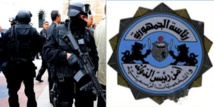 Security forces cornered two "terrorist elements" in the town of Ben Guerdan in Medenine province, where one of them blew himself up, the ministry said.
The second suspect was killed in an exchange of fire with police, it added.
In recent years, Tunisia has witnessed a string of attacks, most of them claimed by Islamic State.
In 2016, Islamic State militants carried out a surprise attack on Ben Guerdan, targeting security and military headquarters.
Fifty militants, 12 security men and seven civilians were killed in the stand-off.