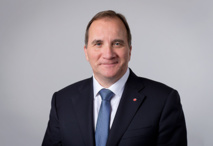 Swedish premier
Lofven, who heads a minority government, is under pressure after the centre-right opposition announced Wednesday they would move for a no-confidence vote against the ministers of defence, the interior and infrastructure unless Lofven dismisses them.
The trio have been criticized over their handling of a scandal involving the National Transport Agency. The agency in 2015 outsourced its IT services to information giant IBM, which then used employees in several countries, including the Czech Republic, without Swedish security clearances.
The agency handles sensitive data such as driving licences and vehicles, including individuals with shielded identities.
Lofven could fire the three ministers and thereby avert the vote, but analysts have said such a move would be a blow to Lofven's authority.
The prime minister could also tender the government's resignation or call a snap election. This would not affect the date of the general election scheduled for September 2018.
Lofven's Social Democrats have been in power since 2014 with the Greens. His government took over from a centre-right coalition comprising the conservatives, Centre Party, Liberals and Christian Democrats.
The four centre-right parties, who have demanded the resignation of the three ministers, are set to reach the minimum 175 votes needed to oust a minister as they have backing from the right-wing Sweden Democrats.