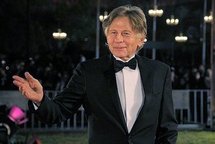 The Swiss Federal Criminal Court ordered Polanski kept in detention while the justice ministry decides whether it would appeal against the bail. But the government said it would not object.
US authorities, who have been actively hunting Polanski for several years, made no immediate official comment on the bail move.
In a statement, the Swiss Federal Criminal Court said there was a "high" danger that the director of "Rosemary's Baby" and "Chinatown" would try to flee.
But it said the 4.5 million Swiss francs (4.5 million dollars, 3.0 million euros) bail offered by the director, together with him handing over identity papers, and house arrest with electronic monitoring were "sufficient to avert the risk of flight."
Polanski, who has Polish and French nationality, has a chalet at Gstaad, where he will now have to stay once released, his lawyers said.
Acting on a US warrant, Swiss police detained Polanski when he arrived at Zurich airport on September 26 to attend a film festival where he was to receive a special award. He has been held in prison ever since, vowing through his lawyers to fight extradition.
Marc Henzelin, a Swiss lawyer and specialist on extradition cases, said it was "very rare" for bail to be allowed in such cases.
Two earlier requests for bail were turned down because of fears that Polanski would leave the country.
But in the latest ruling, the court said that the bail sum offered represented a "substantial portion of Polanski's fortune."
"Regarding his advanced age in the case of loss of said bail the possibility of re-accumulation of fortune in this amount would not be certain," it said.
Justice Minister Eveline Widmer-Schlumpf said she saw "no reason" to contest the decision before the federal court in Lausanne -- the nation's highest judicial body.
"The federal court has taken the decision with full knowledge of the facts," she told Swiss public television.
Polanski has been regarded as a fugitive by US authorities since he fled the United States in 1978 after pleading guilty to having sex with a 13 year old girl in California.
Polanski's French lawyer, Georges Kiejman, said that Polanski would provide the bail sum and would be kept under house arrest at his residence in Gstaad.
Lawyers for the director are due to ask a California appeals court on December 10 to dismiss the child sex conviction against Polanski, legal sources have said.
Polanski's Swiss lawyer, Herve Temime, said in a recent interview with French newspaper Le Figaro that the director would never accept extradition.
Temime said Polanski had not received a "just trial" in Los Angeles in 1978 and there was the issue of statute of limitations for the offence.
"For all these reasons and other, his position remains unchanged: he will never accept extradition to the United States," the lawyer declared.
The woman who was assaulted by Polanski as a 13-year-old has also called for the case to be dropped.
After his detention in September, many leading film directors and stars spoke out for the winner of the 2003 best director Oscar, saying Polanski was the target of a witch-hunt.
France's Culture Minister Frederic Mitterrand called the detention "absolutely horrifying" and said it showed a "darker" side of America.
Former French culture minister Jack Lang, one of many intellectuals to defend Polanski, called the bail decision "wise and happy".
----------------------------------------------------------------------------------------------------------------------------------
Image: AFP/File/Abdelhak Senna.