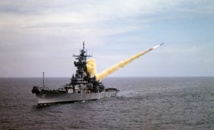 "At 3:42 am (0042 GMT) the United States carried out a flagrant aggression with missiles against one of our airbases in the central region, killing six people and wounding a number of others, and causing significant damage," a spokesman said, reading from a statement on state television.
He did not specify whether the casualties were civilian or military, and gave no further details on the damage caused by the attack on the Shayrat Airfield in Homs province.
The Syrian Observatory for Human Rights, a Britain-based monitor, said seven Syrian military personnel had been killed in the strike.
The attack was the first direct US military action against President Bashar al-Assad since the start of Syria's war in March 2011.
It came after a suspected chemical attack against a rebel-held town that killed at least 86 people and left dozens more suffering convulsions, vomiting and foaming at the mouth.
Syria's government and army denied any use of chemical weapons or involvement in the incident.
"The high command of the army and armed forces confirms that its response will be further determination to pursue its national duty in the defence of the Syrian people and to crush terrorism wherever it is," the statement added.
It accused Washington of being allied with jihadist groups like the Islamic State group, and said it was seeking to "justify this aggression" by pointing the finger at Damascus for the suspected chemical attack "without knowing the truth."