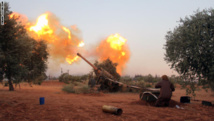 The Syrian news agency SANA quoted a military source as saying military positions in the provinces of Hama and Aleppo had been "subjected to a new aggression with hostile missiles at about 10:30 pm (19:30 GMT)," on Sunday.
Syrian television aired images of what it said was the explosions. It had earlier reported loud blasts heard in rural areas of Hama.
Some media loyal to the Syrian regime suggested Israel was behind the attacks. Israel does not usually comment on such cases.
The Britain-based Syrian Observatory for Human Rights said shelling targeted a Syrian army base, home to the 47th Brigade, near the city of Salhab, west of Hama, where Iranian forces are also stationed.
Syrian opposition sources said the attack inflicted heavy casualties on the Syrian army and their allies the Iranians, without giving a specific number.
The Observatory said rockets also hit Syrian government bases in the region surrounding Nairab military airport, which is close to Aleppo International Airport.
Sources close to the Syrian government told dpa loud explosions were also heard from Iran's Nahar al-Bard base, 60 kilometres north-west of Hama.
Iran and Russia, which also has forces in Syria, are Syrian President Bashar al-Assad's closest allies.
Russia and Syria have blamed Israel for April 9 airstrikes which hit the Syrian military airbase T4 in central Syria near Homs, killing at least 14 Syrian and Iranian soldiers.
The strikes on T4 came less than 48 hours after a deadly alleged gas attack on the rebel pocket of Douma in Eastern Ghouta outside Damascus. Syrian government forces retook the rebel enclave days afterwards.
Earlier Sunday Israeli Defence Minister Avigdor Lieberman vowed to maintain freedom of operation in Syria.
"We have no intention to attack Russia or to interfere in domestic Syrian issues," Lieberman said at a conference, according to the newspaper Haaretz.
"But if somebody thinks that it is possible to launch missiles or to attack Israel or even our aircraft, no doubt we will respond and we will respond very forcefully," Lieberman said.
Israel had three problems, he added: "Iran, Iran, Iran."
"Iran is trying to destabilize the whole region, not only in Israel. Look at what is happening in Yemen, Lebanon, Iraq, Syria," the defence minister said. "Iran supports and creates proxies around Israel. Hamas and Islamic Jihad would not survive one week without Iranian support."
SANA reported that Sunday's attack came as an agreement was reached to evacuate opposition rebels from areas south of the capital Damascus, specifically from Yelda, Beit Saham and al-Yarmouk camp, home to Palestinian refugees.
The Syrian army last week launched a wide-scale offensive on areas held by Syrian rebels and Islamic militants south of Damascus.