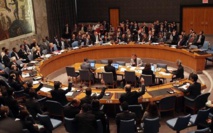 Vasilly Nebenzia said Syria reports continuously about chemical weapons to international bodies.
The Chemical Weapons Convention (CWC) came into force in 1997. Almost all countries in the world have ratified the convention, which is aimed at prohibiting and destroying chemical weapons.
The CWC's Organization for the Prohibition of Chemical Weapons (OPCW) worked with the UN in 2013 to eliminate Syrian chemical weapons. Syria later joined the convention.
US Secretary of Defence James Mattis told reporters at the Pentagon Friday that the US was concerned about the possibility of sarin gas use in Syria and was looking for evidence that it had been used.
Mounzer Mounzer, Syria's deputy UN ambassador, on Monday condemned the use of chemical weapons.
"We will never use them because we do not possess them," Mounzer said.
The Security Council session focused on the Joint Investigative Mechanism, a team of experts from the UN and the OPCW. The team recently investigated the use of chemical weapons in Syria but its mandate expired after Russia repeatedly vetoed extending it.
The US ambassador to the UN Nikki Haley called on Syria to stop the use of chemical weapons immediately and destroy existing stocks. Her French counterpart Francois Delattre warned that the weapons could also fall into the hands of terrorists.
"At stake is the future of our collective security system," Delattre said.