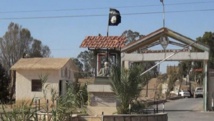 Western powers meeting in Paris called for peace talks to resume and for civilians to be allowed to leave Aleppo, where tens of thousands have already fled the offensive.
The diplomatic flurry came as a US-backed alliance announced it would launch the second phase of its battle for the Islamic State group's de facto Syrian capital of Raqa further east.
Washington announced it was sending an additional 200 troops to support that offensive against IS.
The three-week-old assault by the Russian-backed regime of Syrian President Bashar al-Assad aimed at retaking all of Aleppo has triggered mounting international outrage.
Speaking in Paris, Kerry said the regime's "indiscriminate bombing" of Aleppo amounted to "war crimes" and "crimes against humanity" and he called for Russia and Assad's other backers Iran to show "a little grace" and help end it.
American and Russian officials were due to gather in Geneva for what Kerry called a bid to stop Aleppo "being absolutely, completely, destroyed".
Aleppo has witnessed some of the most brutal violence of Syria's nearly six-year war.
In less than a month, forces loyal to Assad have overrun around 85 percent of east Aleppo, a rebel stronghold since 2012.
UN Syria envoy Staffan de Mistura said the world is watching "the last steps" in the Aleppo battle and evacuating civilians must be a priority.

- Bombing 'unreal' -

Air strikes and regime rocket fire battered the last remaining rebel districts Saturday, the Syrian Observatory for Human Rights said.
The strikes were so intense that windows in the west rattled.
"The bombing is unreal," said Ibrahim Abu al-Leith, spokesman for the White Helmets rescue force inside Aleppo, speaking from one of the last rebel-controlled zones in the southeast.
"The streets are full of people under the rubble. They are dying because we can't get them out," he told AFP.
The Observatory said 19 civilians were killed Saturday by rebel rocket fire into government-controlled districts, taking to 139 people the number killed there by rebel fire since November 15.
Another 413 civilians have been killed in east Aleppo in the same period.
Moreover, the NGO Union of Medical Care and Relief Organizations, condemned a possible chlorine gas attack on Friday in the Kallash neighbourhood of Aleppo.
"Victims at the medical facility reported symptoms consistent with the choking agent, chlorine gas. 25 victims are reported to have experienced suffocation and difficulty breathing," they said.
The opposition has repeatedly accused the regime of using chlorine gas on rebel zones, which Damascus denies.
A joint investigation by the United Nations and the Organization for the Prohibition of Chemical Weapons (OPCW) found that several units of the Syrian army had used toxic weapons against three villages in northern Syria in 2014 and 2015.
With the fighting intensifying Saturday after a brief respite, a UN General Assembly resolution demanded an immediate ceasefire and urgent aid deliveries.
But both Moscow and Damascus have rejected talk of a ceasefire without a rebel withdrawal -- a demand that opposition groups have refused.
After meeting opposition representatives on Saturday, French Foreign Minister Jean-Marc Ayrault said the opposition was willing to resume peace talks "without pre-conditions".
However, a diplomatic source told AFP the opposition required a political transition in Syria before it would agree to take part.

- Civilians flee -

"There can be no military solution in Syria," British Foreign Secretary Boris Johnson said in Paris, urging "a return to a political process with the credibility necessary for all parties to commit to an end to all the fighting."
German Foreign Minister Frank-Walter Steinmeier said: "We demand that the regime, but also Iran and Russia, let people leave the conflict zone."
The Observatory said another 2,000 civilians fled Aleppo's remaining rebel-held districts Saturday.
State news agency SANA gave a number of 3,000, and said they had been taken to the temporary shelter in Jibrin, about 10 kilometres (six miles) east of the city.
The UN Friday expressed concern about reports of hundreds of men going missing after fleeing to government-held territory.
The fall of east Aleppo would be the biggest blow for the rebels since the war began in 2011.
It began as a widespread protest movement against Assad's regime but has since evolved into an all-out war that has seen jihadists such as IS rise to prominence.
IS re-entered Syria's famed ancient desert city of Palmyra Saturday after being driven out eight months ago, the Observatory's Rami Abdel Rahman said.
"After a quick advance, IS now controls most of the city of Palmyra except the southern part," he said.
"The airport which is outside the city (just to the east) is now surrounded by jihadists."
Syrian and Russian warplanes were in action, "but the problem is that there are not enough Syrian forces in the city", he said, adding that Russian air strikes on Palmyra increased in the evening.
At least 100 members of pro-government force members have been killed by IS in and around Palmyra since Thursday, the Observatory said.
In May last year, IS seized several towns in Homs province including Palmyra, which is on UNESCO's world heritage list.
They caused extensive damage to many ancient sites in Palmyra before being ousted in March by Syrian regime forces backed by Russia.
burs-srm/hkb/ceb