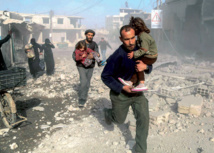 Government forces targeted the region of Eastern Ghouta with dozens of shells and airstrikes in an intensified campaign aimed at expelling rebels there, the Syrian Observatory for Human Rights added.
Six civilians were injured in government shelling of Eastern Ghouta's town of Douma, a base of the Islamist rebel group, Jaish al-Islam, the watchdog added.
Fierce fighting was reported between the two sides on the ground.
Eastern Ghouta has been under siege by forces of Syrian President Bashar al-Assad for more than four years.
A total of 400,000 people in the region have been largely cut off from humanitarian aid since 2013.
Several attempts to establish a permanent ceasefire in Eastern Ghouta have since failed.
In recent months, the Syrian forces, supported by Russia, have regained ground from Western-backed opposition fighters and militants.
On Saturday, opposition fighters brought down a Russian jet in Syria's north-western province of Idlib and killed its pilot.
The Russian Defence Ministry confirmed the downing of the Su-25 plane, saying it was brought down by "a portable anti-aircraft missile system."
Hayat Tahrir al-Sham, an al-Qaeda-linked alliance active in Idlib, claimed responsibility for the downing.
The incident prompted retaliatory strikes by the Syrian government and Russian allies in the area, activists reported.
At least 15 civilians were killed in the attacks, according to the Observatory.
The dead included eight people killed overnight by missiles fired from Russian warships in the Mediterranean Sea on the town of Khan al-Subul in Idlib.
Seven others were killed in strikes by government helicopters in Idlib's town of Maasran, the London-based watchdog added.
The fatalities included eight children.
After a brief lull, warplanes on Sunday struck rebel areas in Idlib, the Observatory reported, without giving casualties.
The last remaining rebel province in war-torn Syria, Idlib is dominated by hardline jihadists.
The province has been the target of intense bombardment by government and Russian jets over the past week, according to local activists.
Syria's crisis started with peaceful anti-government protests, but soon developed into a multi-sided conflict.