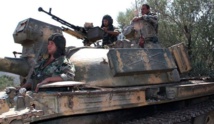 "More than 800 shells have been fired against several areas in the province where fierce fighting has been going on between the regime forces and the rebel factions since dawn," the Syrian Observatory for Human Rights said.
"The government forces took control of the village of Mashara in the central countryside of Quneitra," the Britain-based watchdog said.
The fighting is taking place just 4 kilometres away from a disengagement area between the countryside of Quneitra and the Israeli-occupied Golan Heights.
At least five fighters on the Syrian side and three members of the rebel factions were killed in the fighting, the watchdog added.
Rebel factions control more than 70 per cent of Quneitra.
The offensive comes days after Syrian troops entered the southern province of Daraa and hung the national three-star flag in the city's square.
The Syrian government forces now control more than 84 percent of Daraa, the cradle of the 2011 uprising against President Bashar al-Assad's rule.
According to activists, there are still some 2000 rebel fighters inside the rebel-controlled parts of Daraa city.
Notepad