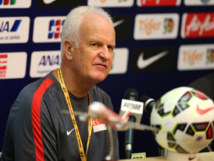 German coach Bernd Stange
Syria's national football association announced the decision late Thursday.
The team had started into the tournament in the United Arab Emirates (UAE) with high hopes of making it into the last sixteen, but scored no goals in two matches. The team is not yet eliminated and have one point after a draw with Palestine.
Fajr Ibrahim is to take over as interim coach ahead of a match against title holders Australia on January 15.
For Stange, 70, the side could have provided a last chance for glory. Despite the ongoing civil war, Syria only narrowly failed to reach the World Cup in Russia but hoped they could make an impact at the Asian Cup.
Stange took charge from early 2018 to prepare the team for the tournament under conditions which were far from ideal: there are no home games in Syria and most players earn their money abroad.
A veteran of East German football, Stange is no stranger to international football.
In 1983, aged just 35, he was named East Germany coach for a six-year stint during which he had connections to the Ministry of State Security (Stasi). The revelations came out through the Stern magazine, in 1995, when Stange was sporting director with Hertha Berlin.
Stations abroad followed: Ukraine, Australia, Oman, Cyprus, Singapore and Belarus, with Stange criticized for his involvement as coach of Saddam Hussein's Iraq 2002-2004.