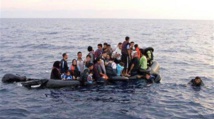 "The overall majority of migrants rescued during these days were West African nationals, but there were also some other nationalities: Bangladeshis, Eritreans, Egyptians, Sudanese, Moroccans, Syrians and Libyans," the UN agency said in a statement.
"IOM staff also met an 89-year-old Syrian man, rescued at sea and brought to [the Italian port of] Taranto by the German ship 'Mecklenburg', and a Nigerian girl who gave birth on board the Spanish Navy Ship 'Cantabria,' soon after being rescued," it added.
Some 2,560 people were rescued from Friday to Monday, the IOM said. Some 34 bodies were also recovered, including those of 26 Nigerian women who may have been sex trade victims, and at least 50 more migrants were missing at sea.
Survivors arriving in Salerno, another Italian port, offered many dramatic stories: a girl claimed she was raped, another reported that she had seen her three children die at sea, the IOM said.
"This is the outcome of one of the toughest weeks that rescue workers in the central Mediterranean route have experienced in the past for four months up to Monday," Flavio Di Giacomo, an IOM spokesman, said.
Sea migration to Italy has surged in recent days, casting doubts on whether the drop in registered arrivals since July, after migration-stemming deals between the Italian government and Libyan authorities, is permanent.