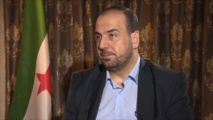 It's not enough to simply treat the symptoms of an illness, the chief negotiator for the Syrian opposition, Nasr al-Hariri, told dpa in Istanbul. "Terrorism won't disappear without attacking its roots. It arose from the oppression, crimes and chaos of al-Assad's regime."
The Islamic State terrorist group has lost nearly all of its former strongholds in Syria. Troops led by the Kurdish People's Protection Units (YPG) are currently fighting the last bastion of the Islamists in eastern Syria.
Al-Hariri heads the Syrian opposition in exile, which is based in Istanbul. They enjoy a close relationship with Turkey and share Ankara's view that the YPG is a terrorist organization.
The opposition is urging a political solution for the crisis in Syria. Without one, all the money spent on the fight against Islamic State will have been for nothing, al-Hariri says. "Then [Islamic State] will pop up again in another place and another form," he says.
The opposition leader has few expectations for the planned establishment of a Syrian constitutional committee. It "won't lead to a political solution," he said. "After all of Russia's political attempts to disturb the political process ... we are convinced that the committee will be dead before it's even been born," he added.
Syrian government allies Russia and Iran, as well as Turkey, had recently brought up the committee again after a meeting in the Russian city of Sochi. The committee is expected to work under UN guidance. Thus far, its exact make-up has not been set.