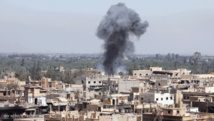 The sound of loud explosions echoed through the Syrian capital, a witness told dpa.
Residents in the area said that explosions took place around the Mezze Military Airport west of the capital and in the areas of Kesawa and Jimraya, which are located north-west of Damascus.
The residents added that there were at least two rounds of strikes in Kesawa and Jimraya.
The head of the Britain-based Syrian Observatory, Rami Abdel Rahman, said the targets were arms depots that belong to the Iranian Revolutionary Guards and their allies, the Lebanese Shiite movement Hezbollah.
Lebanese residents near the border with neighbouring Syria said the sound of planes could be heard in the sky, hinting that Israeli planes were using Lebanese airspace to hit targets inside Syria.
An Israeli Army spokeswoman said the Israeli rocket defence was activated against an anti-aircraft rocket fired from Syria.
"An aerial defense system went off against an anti-aircraft missile launched from Syria. No damage or injuries were reported," the Israeli Army said.
The Lebanese National News Agency (NNA) said that Israeli warplanes were flying at low altitude over areas in eastern and southern Lebanon.
A Lebanese army source said "that parts of the Syrian rockets which were fired on the targets fell on territories in eastern Lebanon."
Israel had previously said it will not tolerate Iran seeking to establish permanent military bases in Syria as the war there winds down after seven years of fighting.
Iranian and government targets inside Syria have been hit several times since April.