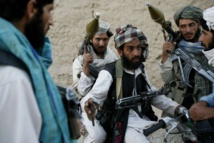 A large number of Taliban militants attacked a police checkpoint in Balabulok district in Farah early Saturday, killing at least 10 officers, provincial council member Faridullah Bakhtawar told dpa.
The insurgents took all of the weapons after the checkpoint fell to the Taliban following an intense gunfight, Bakhtawar added.
Afghan security forces also inflicted heavy casualties on the insurgents, but there is no information on the exact number.
Five local police officers were killed and two others injured when armed Taliban militants attacked two checkpoints in Zabul province late Friday, provincial council member Haji Atta Jan Haqbayan told dpa.
Claiming the responsibility for both attacks, Taliban spokesman Qari Yousuf Ahmadi tweeted that the militia had detained one officer and killed 10 others.
On January 18, at least seven Afghan police officers were killed and several others injured in a Taliban attack on two security checkpoints in Farah.
Attacks on security posts and bases have become a weekly, if not daily, occurrence in recent months.
As the war intensifies, Afghan security forces are increasingly overwhelmed and demoralized, contributing to NATO's decision to increase the number of international troops in Afghanistan this year.
Many of the additional soldiers are supposed to help train the Afghan army and police.