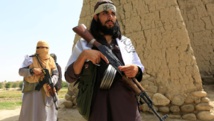 The militants will hand the prisoners over to the International Committee of the Red Cross (ICRC) in Afghanistan's southern Kandahar province on Sunday, the group's political spokesperson Suhail Shaheen wrote on Twitter.
Earlier today, the National Security Council confirmed that it had released a third batch of 100 Taliban prisoners on Saturday.
The health, age, and length of remaining sentence of the prisoners were factors in deciding which prisoners to release, the council said.
The government has freed a total of 300 Taliban prisoners since Wednesday.
On Sunday, an official told dpa that another group will be freed in the course of the day, but the exact number was unclear.
The process comes both as part of an agreed peace process, and a bid to contain the outbreak of Covid-19 in prisons.
According to officials, all freed inmates have taken an oath "never to return" to the battlefield. The same assurance has been given by the group's leadership in Doha.
A US-Taliban agreement inked in late February requires the release of up to 5,000 Taliban prisoners in exchange for 1,000 pro-government prisoners.
The Afghan government had said it would release 1,500 Taliban inmates before the start of intra-Afghan peace talks - originally planned for March 10 - but the militant group is insisting that all 5,000 should be released before any talks.
The militant group was demanding the release of their 15 commanders during the first stages, but this was rejected by Kabul.