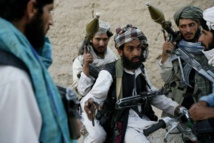 Afghan President Ashraf Ghani and representatives of the Taliban in Qatar have confirmed that they will send delegations to the meeting, Russia's Foreign Ministry said Saturday.
A first attempt at the conference failed in August after an objection was lodged by the Afghan government.
The Afghan civil war between the radical Islamist Taliban and the foreign-aided government has raged for years, and the conflict can only be resolved through negotiations, the Russian Foreign Ministry said.
With this in mind, the ministry said the activities of countries in the region should be better coordinated.
Those invited to the conference include the deputy foreign ministers of China, India, Iran, Kazakhstan, Kyrgyzstan, Pakistan, Tajikistan, Turkmenistan and Uzbekistan, as well as special representatives from other countries, for example the United States.