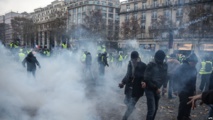 Police deployed tear gas and water cannon to fight back the protesters at the Arc de Triomphe as they tried to break through barriers set up by authorities.
More than 100 people were arrested during Saturday's protests in Paris, according to Prime Minister Edouard Philippe.
He estimated the number of protesters in Paris at about 5,500, while a total of approximately 36,000 people were protesting around the nation by noon (1100 GMT) Saturday.
Hundreds of thousands of people have taken part in protests since mid-November against fuel tax hikes and reform policies, which the government says are necessary to support environmental programmes.
On Tuesday, President Emmanuel Macron promised a wide-ranging consultation process with protesters, who often wear yellow safety vests in a sign of solidarity with the movement.
But Friday, a representative of the "Yellow Vest" movement broke off a meeting with Philippe, saying he had walked out because the prime minister had refused to let the session be filmed and broadcast live.
The protests have also spilled over into Brussels, where two police vehicles were burned on Friday near the European Commission office.
The Champs-Elysees remained open to pedestrians Saturday, but identification checks were introduced along the access points to the road.
Fires were set and many shops damaged in the famous shopping street during last weekend's protests.