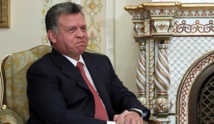 Hundreds gathered near Amman's Fourth Circle roundabout - the site of major protests in the summer that led to the ouster of the government - hours after the government warned against inciting unrest.
"Down with the impoverishment strategy!" protesters chanted.
Using a megaphone, a security official called on protesters not to leave the designated area for the demonstrations.
Shortly after, security forces used tear gas to disperse protesters who tried to advance towards the Fourth Circle, or had left the protest site to block streets nearby, according to Hala Akhbar, a website affiliated with Jordan's military.
In recent weeks, Jordanians have been holding scattered protests after parliament approved income tax legislation last month and sent it to King Abdullah for ratification. Critics have said lower- and middle-class families would see their taxes increase under the bill.
Protesters also called for the cancellation of a sales tax increase - imposed by the government earlier this year - as well as a decrease in fuel taxes and the release of political prisoners.
Earlier on Thursday, government spokeswoman Jumana Ghuneimat said the government was open for dialogue but warned against illegal activity.
"Freedom of speech is guaranteed by the constitution," she told a press conference.
Yet, "whoever breaks the law ... will be punished," Ghuneimat added.
After protests in June against a draft income tax law, the king sacked then-prime minister Hani al-Mulki. The new government, led by economist Omar Razzaz, withdrew the bill and promised to revise it.
Protesters nevertheless took to the streets again, saying that the new law passed by parliament introduced few changes.
Regional conflicts and an influx of refugees have put pressure on Jordan's government to revive its economy and implement reforms requested by the International Monetary Fund (IMF) to decrease the budget deficit.
In 2016, the government took a three-year loan from the IMF, amounting to 723 million dollars, to lower the country's public debt, which stands at around 95 per cent of gross domestic product.
Since last year, the kingdom has introduced several austerity measures such as slashing subsidies on some basic commodities, including bread.
Notepad