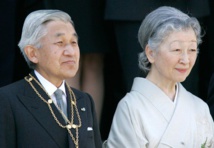 Japan's "Golden Week," during which a number of national holidays come together, has been extended to include Akihito's abdication on April 30, followed by his son, Naruhito, taking over a day later on May 1.
Emperor Akihito became the 125th Japanese emperor on January 7, 1989, at the age of 55, following the death of his father Hirohito, in whose name the country fought World War II and lost.
A traditional ritual will be held at the Imperial Palace in central Tokyo on Tuesday at which the 85-year-old Akihito will renounce the Chrysanthemum throne.
It will be Japan's first abdication since Emperor Kokaku relinquished the throne in 1817.
Crown Prince Naruhito, 59, Akihito's oldest son, will ascend the throne on May 1 and inherit traditional regalia such as the sacred sword and jewels as proof of succession.
For Japan, Naruhito's ascendance means the beginning of a new era and one month before the succession, the government announced that the era would be called "Reiwa."
The word consists of two Japanese kanji characters – "rei" means "order," "command" or "good" while "wa" means "harmony."