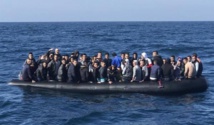 The boat departed from Rupert island in Indonesia's Riau province late on Tuesday, but developed an engine problem, said Kukuh Widodo, a spokesman for the search and rescue agency in the provincial capital Pekanbaru.
At least 10 people were rescued and a search was continuing for the 10 others who went missing, he said.
The passengers were travelling on a wooden boat to Malaysia to work as labourers, Kukuh added.