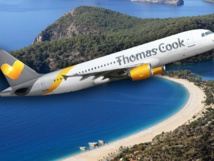 The first 15 flights to return stranded tourists will take holidaymakers from the islands of Kos, Corfu and Zakynthos, the Greek Tourism Ministry said. The plan is to fly some 22,000 people from Greece over the next three days.
"The financial collapse of Thomas Cook is an unfortunate development for the entirety of European tourism and it also affects the Greek market," the ministry said.
Turkey's Culture and Tourism Ministry said it will introduce a "credit support" package for businesses negatively affected by the collapse, but offered few details.
It said the loan package will go into effect as soon as possible, in coordination with the Treasury and Finance Ministry.
Thomas Cook has 21,033 customers currently on holiday in Turkey, the ministry said.
Some 25,000 to 30,000 tourists are thought to be affected in Spain, mainly from Britain but also from Germany and other countries.
The collapse of the British company will have a "very negative impact" on Spain, the country's tourism minister Maria Reyes Maroto said.
Iago Negueruela, the regional minister responsible for the Balearic Islands, called it "a very hard blow" for tourism on the islands of Mallorca, Menorca, Ibiza and Formentera, in comments to radio station SER.
Meanwhile, 200 tourists at a Thomas Cook hotel in Sicily have been left stranded, a hotel employee told dpa.
"We are waiting for instructions, we heard the news via the media," a staff member at the Sentido Acacia Marina hotel in Marina di Ragusa in south-eastern Sicily said.
The mainly British, German and French tourists "are not angry, but like us, they are waiting for information" on what is going to happen to them, she added.
The German Foreign Ministry said it would support German tourists abroad, and that German embassies around the world were prepared to help in whatever way. A spokesman said the ministry was prepared for all scenarios.
Greek hoteliers are worried about outstanding payments. Theocharis said his ministry is working on a plan to offset financial losses.
"It is a magnitude-7 earthquake, and the tsunami is yet to come," the president of the tourist organization on Crete, Michalis Vlatakis, told To Proto Thema news.
Thomas Cook had contracts with about 70 per cent of all hotels on Crete. The company brought 400,000 tourists to Crete this year alone, and 20,000 are still there, Vlatakis said.
Still vulnerable after nearly a decade of a crippling financial crisis, bailouts and austerity reforms, Greece heavily depends on tourism, which generates 23 per cent of its gross domestic product.
Meanwhile an estimated 6,500 people have been affected by cancelled flights to and from holiday destinations in the Nordics.
All flights operated by Thomas Cook Airlines Scandinavia were halted, affecting departures and arrivals in Denmark, Finland, Norway and Sweden, according to a statement issued by Thomas Cook Group subsidiary Ving.
Danish travel company Bravo Tours said it would attempt to assist stranded charter tourists from its rival, Thomas Cook subsidiary Spies, and "offer available seats," spokesman Stig Elling told news agency Ritzau.
Cypriot Tourism Minister Savvas Perdios said during a crisis meeting that the Thomas Cook insolvency was "a harsh blow for tourism on Cyprus," Cypriot media reported.
State broadcaster RIK said that around 15,000 people were affected by the insolvency on Cyprus.
Perdios called on hoteliers and businesses to act calmly. "It is important that our guests be treated with hospitality and that they can return home smoothly," he said.
Local media said the damages for Cypriot hoteliers could amount to 50 million euros (54 million dollars).
Thomas Cook filed for liquidation Monday, ceasing trading with immediate effect.
Notepad