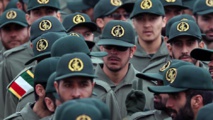 .
The Financial Action Task Force (FATF), meeting in the US state of Florida, acknowledged that Iran had made progress but said the country has not adequately criminalized terrorist financing among other issues.
The group of 38 states previously set a June deadline for Iranian compliance at its meeting in February.
Iran will remain on the watchdog's blacklist along with North Korea
FATF said Iran must remove an exemption for terrorism funding restrictions on groups "attempting to end foreign occupation, colonialism and racism."
If Tehran is not compliant by October FATF will increase external audit requirements for financial groups with branches in Iran among other measures
FATF said it would "continue the suspension of counter-measures" against Iran, but is calling on its member states "to require increased supervisory examination for branches and subsidiaries of financial institutions based in Iran."
"The Islamic Republic of Iran regularly seeks to use deception and subterfuge to fund its illicit activities, threatening the integrity and security of the international financial system," US Secretary of State Mike Pompeo said in a statement Friday.