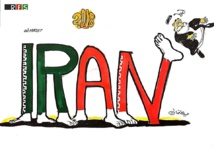 It called on Iran to change domestic rules that offer organizations an exemption from designation as terrorist groups if they are "attempting to end foreign occupation, colonialism or racism."
Tehran also needed to fully identify and freeze "terrorist assets" in line with Security Council resolutions, said the task force, which includes all five permanent Security Council members as well as India and most western European states.
North Korea is the only country currently under FATF sanctions, which effectively impede financial transactions with the rest of the world. However, unilateral US sanctions also impede Iran's financial links with many countries.
The task force added Cambodia to its watchlist of countries with strategic shortcomings in countering money laundering and the funding of terrorism.
But it said Cambodia had drawn up an action plan and was showing "high level political commitment" to tackle the issues.
An official from the Cambodian Finance Ministry referred questions from dpa to an official at the Cambodia Financial Intelligence Unit, who could not be immediately contacted.
Other countries on the watchlist are the Bahamas, Botswana, Ethiopia, Ghana, Pakistan, Serbia, Sri Lanka, Syria, Trinidad and Tobago, Tunisia, and Yemen.
Notepad