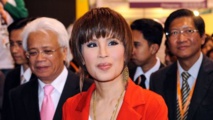 The party had nominated Princess Ubolratana, reigning King Maha Vajiralongkorn's oldest sister, to be its candidate for prime minister.
King Vajiralongkorn said late Friday his elder sister's surprise bid to become prime minister is unconstitutional and inappropriate.
In a written statement, Vajiralongkorn said Princess Ubolratana is "highly respected by all the royal family members" but that the monarchy in Thailand should remain above politics.
"Her involvement in politics is against the long-standing national tradition and very inappropriate," the statement said.
The Thai Raksa Chart Party said it would suspend campaigning on Saturday while it reassessed its options.
"Right now we have to reorganize and we will release a statement shortly concerning our future plans," a senior party member told dpa requesting anonymity.
Princess Ubolratana took to her supporters in an Instagram post on Saturday saying she wanted to thank people "for their love and support."
The post did not mention her candidacy or the king's disaproval.