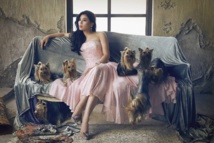 Princess Sirivannavari Nariratana
The video, shot by Princess Sirivannavari Nariratana and posted to her Facebook page, had garnered 1.7 million views, more than 115,000 reactions and 54,300 shares only one hour after being posted.
It shows the newly crowned king smiling candidly at the camera while being cheered on by tens of thousands of people at a park near the Grand Palace.
The video offers a rare close-up view from the palace balcony where the king and queen granted their first public audience since the king was crowned on Saturday in elaborate coronation ceremonies.
Sirivannavari, a 32-year-old fashion designer, and her two siblings later joined the king and queen on the balcony, waving at yellow-clad supporters who had been waiting since early Monday in scorching summer heat.