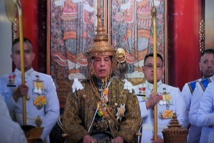 As part of the second day of the three-day elaborate coronation estimated at costing 31 million dollars, the 66-year-old will be carried on a palanquin by soldiers along the seven-kilometre route near the Grand Palace in Bangkok's old town.
Tens of thousands of people in yellow shirts, the colour of the king, are expected to sit along the road to congratulate their newly crowned monarch for the procession, scheduled to begin at 4:30 pm (0930 GMT) and last at least four and a half hours.
It is a Thai custom for commoners to sit and prostrate in front of the royal family as the monarchy is considered to be semi-divine. Thai kings are also believed to be reincarnations of Vishnu, a Hindu god.
During the parade, which comprises more than 1,300 soldiers, police officers, and government officials including junta leader Prime Minister Prayut Chan-o-cha, the king will make stops at major Buddhist temples to pay homage to Buddha statues before returning to the Grand Palace.
On Saturday, the king donned a 7.3-kilogram multi-tiered crown made of gold and diamonds dating back over two centuries for the country's first coronation in nearly 70 years.
The much-delayed coronation came two-and-a-half years after Vajiralongkorn ascended the throne when his late father king Bhumibol Adulyadej died.