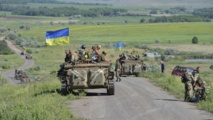 Maxim Eristavi is a nonresident research fellow with the Atlantic Council and co-founder of Hromadske International, an independent news outlet, based in Kiev.
The citizens of Ukraine have never had any illusions about the international community's willingness to take their side in their bloody conflict with Russia. Ukrainians collectively roll their eyes whenever one of their well-meaning friends abroad expresses "grave concern" about Moscow's aggression, because those fine-sounding words are so rarely followed by concrete actions.
But at least they knew they could count on the Americans. Ukraine and the United States have enjoyed friendly relations for a good 25 years now. And over for the past two years — ever since Moscow seized and occupied the Ukrainian territory of Crimea, and then launched its invasion of the country's eastern territories shortly thereafter — Ukrainians always saw Washington as their most important diplomatic ally. That was especially true when it came to maintaining and imposing sanctions aimed at holding the Russian military in check.
Now that long-standing alliance appears to be over. On Jan. 28, President Trump spoke on the phone with his Russian counterpart, Vladimir Putin. The conversation, by all accounts, was marked by an air of friendship and conciliation. In the hours that followed, the fighting in eastern Ukraine suddenly spiked. The number of
explosions
tracked by monitors from the Organization for Security and Cooperation in Europe (OSCE) skyrocketed from
420
on Jan. 26 to
10,330
on Jan. 31, the sharpest increase ever recorded by the observers.
Targeted attacks
on civilian infrastructure have left potentially hundreds of thousands of people in the region without water even as they face temperatures well below freezing. Ukraine now confronts a major humanitarian crisis, as thousands of civilians in the government-controlled town of Avdiivka
huddle in the dark and cold
under intense shelling by combined Russian and separatist forces.
This appalling situation prompted a public outcry from several countries. But as the fighting escalated, many Ukrainians were desperately waiting for a strong statement of support from their biggest ally, the United States. It never came — at least not in the form they were hoping for.
Few in Kiev ever really had illusions that the new U.S. president would continue his predecessor's policy of criticizing and constraining Russia for violating their country's territorial integrity. Many Ukrainians had suspicions about Trump. For many years,
Trump associates
earned big money in Ukraine by lending their skills as consultants and advisers to the spectacularly corrupt ex-president Viktor Yanukovych. As a candidate, Trump made his sentiments amply clear by
and demonstrating his admiration for Putin.
Even so, the break between the two allies came much faster than anyone in Ukraine had expected — and at the worst possible moment.
It took the State Department almost two days to come up with a reaction to the escalating violence. Finally, on Jan. 31, a spokesman in Washington issued a shockingly
bleak statement
that didn't mention Russia once. This is a drastic departure from the previous language used by the United States, which was notable for exposing and acknowledging Moscow's predominant role in the conflict.
The U.S. Embassy in Kiev, meanwhile, limited itself to a single
tweet
expressing concern about children trapped in the fighting. During the crisis of 2014-16, Ukrainians had come to view the embassy as a messaging powerhouse offering round-the-clock statements of support. Now, it's true enough that Ukraine's political elites cheered a surprisingly strong
statement from the U.S. mission to the OSCE
blaming Russia for the escalation; it was published a few hours before the State Department reaction. But it soon became clear that this message was a lonely exception, perhaps representing a last desperate act by some U.S. official intent on sticking to the old course.
Ukrainians took heart from the statement by the Trump administration's new ambassador to the United Nations, Nikki Haley, who
denounced
"the aggressive actions of Russia" and pledged to keep sanctions in place until Moscow pulls out of Crimea. But it is all too evident in Kiev that her sentiments
are not shared
by the one man who counts. Only strong words from the State Department or the White House itself would be enough to undo the damage at this point, and Ukrainians aren't holding their breath.
In any case, the United States' refusal to take a decisive stance on the violence in eastern Ukraine sends a clear signal to Kiev: The friendship is over. And it doesn't really matter whether the shift is the result of skillful Kremlin maneuvering or some sort of concessions offered by the Trump administration out of public view. The United States' reaction to the latest carnage in eastern Ukraine offers a disturbing snapshot of the new geopolitical reality that is now taking shape.
U.S. disinterest also enables radicals within the Ukrainian political elite by removing all constraints on their behavior, too. Some members of parliament recently traveled to the front line to join far-right paramilitaries in enforcing an illegal "economic blockade" of the occupied territories. The sudden evaporation of strong international support for Ukraine has brought
crucial reforms to a halt
as corrupt elites suddenly don't feel any pressure to deliver on the conditions tied to Western aid packages.
The end of the U.S.-Ukraine alliance will also have a terrible effect on civil society, which remains crucial to the country's continuing transformation. It's nearly impossible to count all the times in the past three years when pressure from the U.S government, often low-profile, helped activists to deflect attacks on independent journalists; to protect lesbian, gay, bisexual or transgender (LGBT) people; or to push forward urgently needed reforms.
All this should provide some idea of the damage Trump's policies are already causing in Ukraine. And I suspect that our country won't be the only one affected.