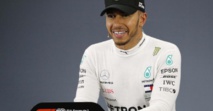 Berlin

(dpa)

-
Lewis Hamilton has added another chapter to his Formula One greatness and the opposition may be wondering how on earth the imperious Briton in his Mercedes can be stopped.
Not even a last-lap puncture at Sunday's home grand prix in Silverstone stopped Hamilton from garnering his seventh victory on the famous track, his third in a row, and an 87th overall.
There was arguably some luck involved because Red Bull's Max Verstappen should have won the British Grand Prix, which only became exciting in the closing stages, had he not gone for a late pit stop in the quest to get the fastest race lap.
But eventually all the ifs and buts didn't matter - after all, Hamilton's team-mate Valtteri Bottas and McLaren's Carlos Sainz also had front left punctures in a bizarre finale - and Hamilton was once again top of the podium.
"If Lewis Hamilton even wins on three wheels then you might as well close shop," Italy's La Gazzetta dello Sport said on Monday.
Switzerland's Blick said: "Who is supposed to stop Hamilton when not even a flat tyre does."
Hamilton safely manoeuvring the stricken Mercedes only confirmed a mid-week statement from his motor sport chief Toto Wolff who said that "on a good day Lewis is unbeatable."
It was such a day from the outset behind the closed doors at the track, with Hamilton making the most of his 91st pole position despite a poor start, untroubled by two safety car stages and comfortably keeping Bottas at bay although the Finn tried his best.
What looked like a procession for the podium places - Verstappen 10 seconds behind the top two but more than 20 ahead of Ferrari's Charles Leclerc - eventually turned into drama which all went Hamilton's way.
Bottas had to pit and faded to 11th outside the points, and Verstappen's stop gave Hamilton the necessary advantage to limp home in first and increase his championship lead from five to 30 points.
"Of all the palpitations Lewis Hamilton has subjected us to on his rollercoaster blaze through Formula One, his three-wheel victory at Silverstone on Sunday must rank high among them," Britain's Daily Mail said.
Red Bull did not want to be drawn into the debate whether Verstappen would have won without the stop as team principal Christian Horner said the Dutchman also felt vibrations and "there's no guarantee he would have got to the end of the race."
Hamilton said: "I have never experienced anything like that before. That last lap was one of the most challenging laps I have ever had.
"I am just thinking of all the things that could have happened if the tyre had given up in a high-speed corner. It would have been a much different picture, so I feel incredibly grateful that it didn't."
There have been suggestions that debris on the track, combined with heavy tyre wear on the fast circuit with most teams on just one pit stop, contributed to the flats, but tyre suppliers Pirelli said it was too early to pinpoint an exact reason.
"We want to investigate not only the tyres with the failures but all the tyres used in the last few laps of the race, to understand if we find any other cut or any other possible indication of what happened," Pirelli's Mario Isola said.
They won't have much time but at least have a trackside lab for analysis ahead of the next race on the same course on Sunday, the 70th Anniversary Grand Prix, referring to the first-ever F1 world championship race held at Silverstone in 1950.
Two stops will likely be the order of the day then to be on the safe side, and Wolff was somewhat pleased to finally be proven right for being ever so cautious when it comes to race wins and championships.
"In the past, we have had some scrutiny for saying that having a fast car isn't enough to cruise with a 1-2 finish into the sunset. And today showed how cruel motor racing can be," he said.
"Therefore, we will continue to be sceptical, we know we have a fast car and a powerful engine, but we will not take anything for granted until we've crossed the finish line at each race weekend."