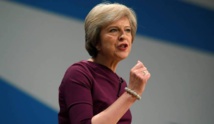 Foreign Secretary Boris Johnson, Home Secretary Amber Rudd, Brexit Secretary David Davis and Chancellor of the Exchequer Philip Hammond are all expected to remain in their posts.
However, Education Secretary Justine Greening, party chairman Patrick McLoughlin, Business Secretary Greg Clark and Andrea Leadson, leader of the House of Commons, are all tipped for change, according to British media.
The prime minister is also set to appoint a "cabinet minister for no deal," the Daily Telegraph reported, in a bid to show Brussels that Britain is serious about leaving the EU without an agreement in place if talks do not come to a satisfactory conclusion.
May is also expected to promote more women and younger parliamentarians in a bid to give her Conservative party a fresher face.
The cabinet changes come in the wake of the departure of her confidante, Damian Green, as first secretary of state after he
admitted to lying about the alleged discovery of pornographic images on his Commons computer during a police raid.
It was the latest in a long line of crises for May, who lost her parliamentary majority shortly after becoming prime minister in July 2016 and whose time in office has been dominated by the divisive issue of Brexit.