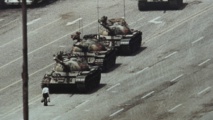 Beijing/Taipei -
By Simina Mistreanu and Andreas Landwehr,
– Fang Zheng recalls the students' withdrawal from Beijing's Tiananmen Square on the morning of June 4, 1989, as peaceful.
A few thousand students had sat overnight around the Monument to the People's Heroes, in the square, following weeks of protests against government corruption. Around 4 am, the last groups started leaving the square, just as tanks were approaching.
Last month, Fang spoke about his experience at an event in Taiwan meant to mark the 30th anniversary of the Tiananmen Square massacre that left at least a few hundred people dead, and by some estimates, several thousand.
"In the June 4th massacre, I was a witness and a victim," said Fang, who is president of the non-profit Chinese Democracy Education Foundation. He called for answers to why, and on whose orders, the army turned against unarmed protesters.
Fang sat on the stage next to Li Xiaoming, a former lieutenant in the People Liberation's Army who was among the troops descending upon Tiananmen Square that day.
"We don't want to wait any longer," Fang said. "I hope that the truth about June 4th will come out soon and that justice will be made."
In mainland China, any mention of the anniversary is banned. Online censorship is heightened around the date, and even veiled references such as "May 35" or the candle emoticon are automatically banned from social media. Survivors and family members who are still in China are kept under strict surveillance and prevented from speaking to foreign journalists.
The anniversary comes at an especially sensitive time for the ruling Communist Party, as China's economy is slowing under pressure from a trade war with the United States and Beijing is facing mounting criticism over its mass internment of Muslim minorities and the strangulation of various civil liberties.
But people who were in Tiananmen that day, and who have since left China following years of pressure from the government, still remember.
'VAGUE COMMANDS TO SHIRK RESPONSIBILITY'
After leaving the square on the morning of June 4, Fang's group turned onto West Chang'an Avenue, a multi-lane boulevard, and continued to walk westward. Suddenly, a group of tanks rushed behind them. Fang, who was then a senior about to graduate from the Beijing Institute of Physical Education, recalls the tanks firing gas grenades at the crowd.
A grenade went off just beside him, enveloping the group in thick smoke. A female student from Fang's university fainted. He picked her up and rushed her to safety over a guard rail by the sidewalk.
"In the blink of an eye, the tank was approaching the sidewalk and closing in on me," Fang said in testimony before a human rights group. "It seemed as if the barrel of its gun was inches from my face. I could not dodge it in time. I threw myself to the ground and began to roll. But it was too late. My upper body fell between two treads of the tank, but both my legs were run over."
Fang regained consciousness in a local hospital, where both of his legs were amputated.
Later, he attempted to continue his athletic career by representing Beijing in sports competitions, but left the country after continued harassment from authorities, who wanted him to lie about losing his legs in Tiananmen. Now, he lives in San Francisco's Bay Area with his family.
At the event in Taiwan, a visibly distraught Li, the former PLA officer, addressed the question of who instructed the army to attack protesters.
"No one directly ordered to shoot and kill," Li said. He added the Communist Party leader at the time, Deng Xiaoping, gave "very vague commands" in order to pass the responsibility on to his subordinates.
"For example, we were ordered to reach Tiananmen Square at all costs," Li said, adding that a commander could interpret that as a greenlight for troops to shoot protesters.
"I didn't kill, but I saw people being killed, and I heard people being killed, and some innocent people were killed," Li told dpa on the sidelines of the event.
Li, who now lives in Australia, said he was traumatized by the experience, and that he aims to contribute to history by speaking out about what happened.
'A NEW ERA BUILT ON COLLECTIVE AMNESIA'
The most famous image through which the world remembers the Tiananmen Square massacre is that of "Tank Man" – the lone man who stood in front of a convoy of tanks leaving the square on June 5. In the images, the first tank in the convoy tries to go around the man, then stops, after which the man climbs on top of the tank and appears to talk to the soldiers.
Although the image raised global awareness of the protests, the Communist Party also used it as part of its propaganda claiming that troops didn't open fire on the protesters. Meanwhile, survivors were promised university degrees and jobs in exchange for silence, and those who spoke out were harassed, Fang said.
Soon after the protests, however, the party decided to censor all mentions of June 4th, ushering in a "new era built on collective amnesia," nationalism and economic growth, said French sinologist Michel Bonnin.
Western democracies at first sanctioned the Chinese government over the crackdown, but later lifted the sanctions just as China's market was opening and brimming with potential.
Former student leader Wang Dan believes Western countries were "naive" when they let their guard down in their dealings with China.
The current mass internment of ethnic minorities in the Xinjiang region is the latest example of Beijing's ruthlessness, said former student leader Wu'er Kaixi, who is from Xinjiang and an ethnic Uighur.
Wu'er, who now lives in Taiwan and works in investment banking, struggles with knowing his status as a dissident has hurt his parents back in Xinjiang. However, he stays hopeful that things will eventually change in his country.
"Being in exile, I have to remain faithful and hopeful that one day I will see a monument in Tiananmen Square to commemorate my fallen fellows," he said.