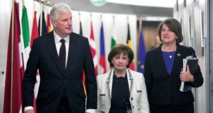 - The House of Commons delivered a blow to May by roundly rejecting the 585-page withdrawal agreement that London has hammered out with Brussels. The deal was rejected with an OVERWHELMING MARGIN of 230 votes, amid strong opposition from both pro-EU and pro-Brexit Conservatives, as well as from the Labour party.
- The next day, parliament narrowly quashed a MOTION OF NO CONFIDENCE that would have forced new elections. May won the vote with critical help from 10 lawmakers from Northern Ireland's Democratic Unionist Party, which provides confidence-and-supply support to her minority government - even though this very party has complicated Brexit negotiations with its tough stance on the Irish border.
- May responded on Thursday by offering to seek "CONSENSUS" and began to hold talks with lawmakers within and outside her party. As for the battered deal, it will come up again for ANOTHER VOTE on January 29.
- Critics accused May of merely mounting a public relations exercise with her call for talks, while lawmakers who met her reported she showed few signs of being willing to compromise.
Green Party lawmaker Caroline Lucas, who wants Britain to remain in the EU and favours a SECOND BREXIT REFERENDUM, said the meetings were "far too little, too late."
- May also met with the Liberal Democrats, the Scottish National Party (SNP) and Wales's Plaid Cymru. But she has yet to talk to the Labour party's Jeremy Corbyn, who chose not to take part in discussions.
- May's office said Thursday that she also remains "open to the idea" of reopening negotiations with Brussels. But it confirmed that she has not raised with the EU the possibility of EXTENDING NEGOTIATIONS.
- For its part, the EU issued sharp warnings after Tuesday's vote that the risk of a "no-deal" Brexit had jumped following the withdrawal agreement's defeat.
On Tuesday night, European Commission President Jean-Claude Juncker called on Britain "to clarify its intentions as soon as possible," adding: "Time is almost up." EU Brexit negotiator Michel Barnier warned that a no-deal exit was looking more likely than ever.
- The huge margin of Tuesday's defeat showed that the EU's assurances on the deal - issued in a letter on Monday - had not given May the boost she hoped for. The letter stressed the "legal value" of assurances that the EU would work hard to avoid the need for a prolonged BACKSTOP situation the Irish border, while refusing to set a fixed time limit for the arrangement.
- Meanwhile, some member states began ramping up their own PREPARATIONS for a no-deal scenario, including France. On Thursday, Prime Minister Edouard Philippe announced that the government was activating a plan to handle repercussions in the case of an unregulated Brexit.
- The same day, Germany pressed ahead with a Brexit bill covering relations with Britain in the case of an orderly withdrawal on March 29, even as Foreign Minister Heiko Maas warned that the likelihood of a disorderly Brexit had "risen significantly."
- Leading German politicians, entertainers and business executives - including Annegret Kramp-Karrenbauer, the new head of Germany's ruling Christian Democrats - launched a CHARM OFFENSIVE in Britain's The Times newspaper on Friday.
"We would miss the British people" if Brexit happens, they wrote.
"After the horrors of the Second World War, Britain did not give up on us. It has welcomed Germany back as a sovereign nation and a European power," the letter said, adding that Germans had not forgotten that and "are grateful."