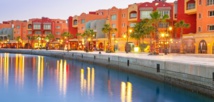 the Red Sea resort of Hurghada
Thomas Cook said its 301 guests at the hotel would be given the option to move to another hotel or be flown home, adding that that it had received reports of a "raised level of illness among guests."
"We continue to work closely with the hotel and are supporting the authorities with their investigations," Thomas Cook said.
The hotel was last audited by Thomas Cook in late July 2018 and received an overall score of 96 per cent, according to the operator.
An official at the hotel said the tour operator's decision to get out its customers was a "precautionary measure."
"Not all the company's guests have decided to leave," the hotel's marketing director Sally Khattab said. "It has not been proven so far that the couple's death was unnatural."
The Red Sea governorate said there was no suspicion of criminal activity in relation to the deaths of the Coopers, which occurred on Tuesday.
It said in a statement on its Facebook page that autopsies would be carried out and that the embassy would be informed to facilitate the transfer of the bodies.
The Egyptian Tourism Ministry also confirmed that there was no suspicion of any criminal activity and extended its condolences to the Coopers' family.
The ministry said that it was following closely the death of the British tourists.
John Cooper died in his hotel room after he suffered a sudden cardiac arrest, the city's authorities said, citing a forensic examination.
The Red Sea governorate said that after his medical examination, it was found that he had suffered "a sharp drop in blood circulation and a sudden stop in the heart muscle."
Susan Cooper died six hours later at a local hospital, where she was taken after fainting and underwent resuscitation attempts.
The couple's daughter, who was with them on a 10-day holiday at the hotel, told prosecutors that her parents might have died as a result of inhaling gas from a leaky air conditioner, an Egyptian official in the Red Sea governorate said.
The official, speaking on condition of anonymity, said the daughter had asked for blood samples to be taken from her parents.
"The prosecution agreed to her request and ordered autopsies today Friday in the presence of a representative from the British embassy," the official told dpa.
Meanwhile, an Egyptian tourism official, who also requested anonymity, dismissed the claim that the couple had died of freon inhalation.
"A technical committee checked the room of the late couple and confirmed that the cooling and air-conditioning connections there are safe," he said, without giving further details.
Egypt is seeking to revive its tourism industry, one of the nation's main sources of income, after it was hit by the unrest that followed the 2011 uprising against Egypt's long-time dictator, Hosny Mubarak.