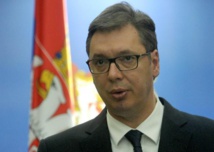 Serbian president
Some 15,000 people marched through the city centre, with a stop in front of the offices of state broadcaster RTS, which is firmly under Vucic's control.
Loudspeakers blared recordings of the president's unkept promises, accompanied by the deafening thousands of whistles and vuvuzelas while a group of protesters spread a banner proclaiming: "It's begun."
The ongoing series of protests was sparked by an assault on an opposition politician in late November and initially took place under the slogan "stop to bloody shirts."
Vucic vowed not to bow to a single demand, "even if there were five million of you," spurring the organizers to come up with their new main slogan: "1 of 5 million."
The focus of the movement, which has no direct political affiliation but is supported by the opposition, has since expanded to include corruption and the country's stifled media.
Vucic formally has limited powers, but in fact he runs the government.
His conservative Progressive Party has dominated parliament in three elections since 2012. He started a five-year term as president last year.
The Serbian opposition, weakened by infighting, corruption scandals and low exposure on state and pro-government media, has meanwhile been marginalized.