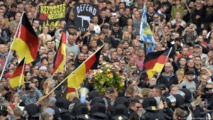 Right-wingers are planning to march in silence, while their opponents will a hold counter-demonstration. Police said they were expecting numbers "in the lower five-digit range."
More than 70 associations, political parties, clubs and private individuals have called for a march under the banner "Herz statt Hetze" - Heart not Hostility.
The organizers' stated aim is to ensure that the silent march planned by the anti-immigrant Alternative for Germany (AfD) and the anti-Muslim Pegida organization does not go unchallenged.
In addition, the right-wing Pro Chemnitz group, which has been at the centre of protests in the city this week, has called its own protest.
The fatal stabbing of a German man in the early hours of Sunday morning, for which an Iraqi and a Syrian man have been arrested, has led to widespread protests in the city.
Speaking on Friday, Susanne Schaper, a member of the Saxony parliament for the hard-left Die Linke party, said the aim of the counter-demonstration was to show that Chemnitz, Saxony's third-largest city, was tolerant.
"We aim to show that there is another Chemnitz as well," Schaper said.
Detlef Mueller, a Social Democrat (SPD) member of the federal parliament, said events had harmed the city's image. "We aim to show that there is an active civil society here," he said.