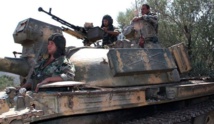 Most of the more than 30,000 fleeing civilians in Aleppo province were women and children, the Syrian Observatory for Human Rights said. It said the army had retaken several villages from IS during a vast offensive that was still ongoing on Saturday.
Most of the civilians who fled went to areas around Manbij, under the control of the Syrian Democratic Forces (SDF), an alliance of Kurdish and Arab fighters backed by the United States that is also fighting IS, it said.
An AFP correspondent in Manbij saw dozens of displaced families speeding towards the relative safety of the town on motorcycles, in small buses and in cars.
They were stopped at a checkpoint manned by the Manbij Military Council, the SDF unit that controls the town, to be searched and get permission to enter.
"The numbers of displaced people here are still rising because of the clashes between the Syrian regime and Daesh (IS)," said Ibrahim al-Quftan, the co-chair of Manbij's civil administration.
"These people are suffering very difficult circumstances."
Since civil war broke out in Syria in March 2011, more than half of its pre-war population has been forced to flee their homes.
The northern province of Aleppo hosts tens of thousands of displaced Syrians, many in camps near the border with Turkey.
Backed by Russian air power and artillery, Syrian government forces are waging a fierce offensive against IS in the province.
They are looking to reach IS-held Khafsah, the main station pumping water into Aleppo.
Residents of Syria's second city have been without mains water for 47 days after the jihadists cut the supply.
On Thursday and Friday, government forces seized 18 villages from IS as they edged towards Khafsah, around 90 kilometres (55 miles) from Aleppo, the Observatory said.