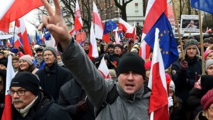 "Let us support the government, so that the justice reform is completed. Not one step backward, gentlemen! Not one!" protest organizer Adam Borowski told the crowd.
Borowski, who heads a club in Warsaw for the pro-government right-wing daily Gazeta Polska, also criticised the European Union, which has been at loggerheads with the government in Warsaw over its reforms.
The EU "has no right to interfere" with Poland's justice system as it does not lie within the EU's remit, Borowski said, echoing the arguments of the PiS-led government.
"EU officials are abusing the law... Our presence here is a defence of our sovereignty," he said.
In a Saturday interview for German news magazine Der Spiegel, the EU's top rule of law official Vera Jourova said that recent reforms of the Polish judicial system have been destructive.
The EU is concerned that the measures introduced by PiS infringe on judicial independence and the system of checks and balances.
Poland will continue to reform its justice system, PiS leader Jaroslaw Kaczynski wrote in a letter to attendees at a party convention of United Poland, a PiS satellite.
"We will not diverge from our path. We will continue with the reforms of the justice system, as these are necessary for Poland and its citizens. We will not succumb to internal or external pressure," Kaczynski wrote, according to reports by PAP news agency.
The justice system must serve citizens rather than constitute an "extroardinary caste" of judges outside any control, Kaczynski wrote.
If Poland succumbs to pressure to retreat from its reforms, it would acknowledge that it is a subordinate, second-tier member state, Kaczynski wrote.
PiS claims that reforms of the judicial system, which it views as corrupt and self-serving, are necessary.
The party's political opponents say that the changes do not address the real woes of the system but are rather an attempt to assert control over the judiciary.