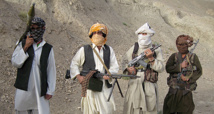 The army said three officers and a soldier were killed when an improvised explosive device (IED) exploded in the Kharqamar area of North Waziristan tribal district.
"Terrorists targeted [a] military vehicle through an IED planted on the road," Inter-Services Public Relations (ISPR), the military's media wing, said in a statement.
"I salute the sacrifices & bravery of our soldiers in keeping us safe. The whole nation stands behind them," Prime Minister Imran Khan said on Twitter.
Last week, the army said that terrorist activity had jumped in the tribal region bordering Afghanistan. The latest attack took place in the same area where forces had conducted search operations and carried out arrests.
ISPR said 10 members of the security forces had been killed and 35 injured over the past month, including Friday's casualties.
North Waziristan is one of the seven so-called agencies in Pakistan's insecure tribal area that borders Afghanistan, and was once the hideout of militants connected to al-Qaeda and the Afghan Taliban-linked Haqqani network.
The Pakistani military has pushed Islamist militants back from their mountain hideouts near the Afghan border in a series of offensives that began in mid-2014.