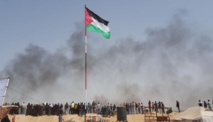 Gaza Health Ministry spokesman Ashraf al-Qedra told reporters that three Palestinians, including a child, were killed by Israeli gunfire in eastern Gaza City near the border with Israel.
Al-Qedra identified one of the victims as a 12-year-old boy.
He said 376 other people - including two paramedics and two journalists - were injured in the clashes, with 192 hospitalized.
Since March 30, Palestinians have been staging near-weekly protests along the Gaza border against Israel's nearly 12-year blockade of the enclave.
One hundred and ninety-eight Palestinians have been killed during the protests and clashes with the army, according to the Gaza Health Ministry.
The Israeli Defence Forces (IDF) estimated that 20,000 rioters and demonstrators gathered at several locations along the security fence in the Gaza Strip on Friday.
The IDF said in a statement that rioters were "throwing explosive devices and grenades, rolling burning tires and hurling rocks at IDF soldiers."
"IDF troops are responding with riot dispersal means and live fire, and are operating under standard operating procedures," the statement said.
An IDF aircraft carried out two strikes in the northern Gaza Strip "in response to several grenades and explosive devices that were hurled by the rioters at IDF soldiers," the statement added.
IDF troops also spotted 10 people who "crossed the security fence from the northern Gaza Strip into Israeli territory, hurled grenades adjacent to the security fence and immediately returned to the Gaza Strip," IDF said.
No injuries to IDF soldiers were reported.