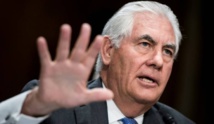 Tillerson will shuttle between Kuwait, Qatar and Saudi Arabia until Thursday in what is the first serious intervention by Washington in the Gulf crisis.
He immediately held talks with Kuwait's Emir Sheikh Sabah al-Ahmad Al-Sabah who is leading the mediation effort between the Gulf states, the official KUNA news agency reported.
Tillerson also met Kuwait's Foreign Minister Sheikh Sabah Khaled Al-Sabah.
British National Security Advisor Mark Sedwill, who was also received by the emir, attended part of the meeting which discussed the Gulf crisis.
Kuwait, the United States and Britain issued a joint statement following the talks, appealing to the Gulf foes "to quickly contain the current crisis and resolve it at the earliest through dialogue," according to a statement cited by the KUNA news agency.
Tillerson will travel on Tuesday to Qatar for talks with leaders there before returning to Kuwait later in the day.
The dispute has seen a Saudi-led alliance impose sanctions on Doha over its alleged ties to both Islamist extremist groups and Shiite-dominated Iran.
As they met in Egypt last week, Saudi Arabia and its allies said they planned to tighten sanctions against the gas-rich emirate, after Qatar refused to comply with a list of demands.
A spokesman for Tillerson said ahead of his landing in Kuwait that it remained to be seen "if there's even a possibility of some outcomes" towards resolving the crisis.
"Right now, after Egypt, we're months away from what we think would be an actual resolution and that's very discouraging," RC Hammond told reporters.
On June 5, Saudi Arabia, the United Arab Emirates, Bahrain and Egypt abruptly severed diplomatic ties with Qatar, suspending transport links with Doha and ordering all Qataris to repatriate within 14 days.

- Ability to manoeuvre -

The four nations later issued a list of 13 demands to be met to lift the sanctions, including that Qatar shut down broadcaster Al-Jazeera, close a Turkish military base and downgrade diplomatic ties with Iran.
Hammond said that the demands were not viable, at least as a package. "Individually there are things in there that could work."
"This is a two-way street," he said of a dispute among parties that each have been accused of funding extremists in some way.
"There are no clean hands."
Qatar refused to meet the demands last week on the grounds they undermined its national sovereignty. It has also categorically denied having any ties to extremist groups.
The Saudi-led alliance accused Qatar late Monday of failing to meet its commitments under the so-called Riyadh agreement of 2013 and its supplements signed the following year after a diplomatic spat.
The accusation came after CNN showed papers from the Riyadh agreements under which Qatar and other Gulf states had pledged to combat terror funding.
Analysts say Tillerson's success in the Gulf may be contingent on his ability to manoeuvre regional scepticism over conflicting stances from Washington on the crisis.
US President Donald Trump initially supported longtime US ally Saudi Arabia, but his stance was later contradicted when the US Department of State took a more neutral position.

- 'Last-ditch effort' -

Tillerson's impact largely depends on whether regional officials "believe that the secretary of state is fully backed by President Trump", London-based political analyst Neil Partrick said.
"If Tillerson can convincingly frame his mission as delivering a deal for the United States that is all about defeating terrorism... then he may have some chance," said Partrick, who focuses on Gulf politics.
But despite strong mediation efforts by Kuwait and others, governments across the region say they may remain deadlocked for the foreseeable future.
"No diplomatic effort or... mediation will succeed without Doha being rational, mature and realistic," UAE state minister for foreign affairs Anwar Gargash tweeted last week.
Tillerson's visit comes on the heels of a string of official visits to the region, including UN diplomats and the foreign ministers of Britain, Germany and Oman.
Despite the deadlock, regional experts say Washington's interest in finding a solution to the crisis is a welcome step.
"The tour comes after contradictory statements from Washington over the dispute," said analyst Abdullah al-Shayeji Shayeji, a political science professor at Kuwait University.
"It is a last-ditch effort to rescue the situation and try to resolve the crisis, which is impacting regional stability, the war on terror and the campaign against the Islamic State" jihadist group, Shayeji said.
He said mutual concessions from the feuding states would however be necessary.
The United States and its Western allies have vast economic and political interests in the Gulf, which pumps one fifth of the world's oil supplies, houses one third of proven global crude reserves and sits on one fifth of the world's natural gas deposits.
oh/pdw/iw