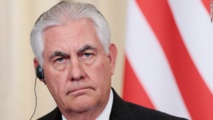 Tillerson was in Cairo, his first visit as secretary of state, as he kicked off a week-long trip to the region. He is expected to also visit Kuwait, Jordan, Lebanon and Turkey.
At a joint press conference with Egyptian Foreign Minister Sameh Shoukry, Tillserson said: "We agreed that we would continue our close cooperation on counterterrorism measures, including our joint commitment to the defeat of ISIS (Islamic State)."
He added that "Egypt deals with the threats of ISIS themselves and are dealing with it certainly currently in the Sinai."
On Friday, Egypt launched a major anti-terrorism operation in Sinai, where it has battled insurgency since the 2011 uprising that toppled long-time leader Hosny Mubarak.
The military operation was also aimed at areas in the northern Nile Delta provinces and the western desert, which borders Libya.
Militant attacks - mainly targeting security forces and the minority Christian community - intensified after the military toppled Islamist president Mohamed Morsi in 2013.
Most of these attacks, which took place in the northern part of Sinai bordering Israel and the Gaza Strip, have been claimed by militants affiliated with Islamic State.
Apart from about 1 billion dollars of military aid to Egypt, Tillerson said, "Our joint commitment to defeat ISIS is steadfast and there has been no gap between Egypt and the United States in our joint efforts to confront terrorists and extremist – extremism in the region, but most specifically here in Egypt as well."
Tillerson said he discussed with Shoukry the promotion of human rights in Egypt and free elections.
Egypt will hold presidential elections in March, in which President Abdel Fattah al-Sissi is virtually certain to win as his challenger is a little-known politician.
The US "supports a transparent and credible electoral process, and all citizens being given the right and the opportunity to participate freely and fairly," he said.
On Libya, Tillerson said Washington and Cairo support the UN action plan for peaceful elections, while asserting that only the political process can solve the crisis in Syria.
He reiterated that President Donald Trump's administration remains committed to achieving a lasting peace agreement between the Israelis and Palestinians.
On December 6, Trump recognized Jerusalem as Israel's capital and announced plans to move the US embassy to the city, sparking protests and unrest across the region.