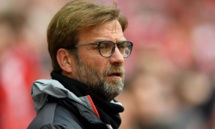 London -
By Simon Cambers,
-
When Juergen Klopp took over as Liverpool manager in October 2015, he said that if he was still at the club in seven years' time, then he probably will have won the Premier League once or twice by then.
Almost three years in, and having signed a new six-year deal in 2016, Klopp has yet to fulfil his pledge, with Liverpool still chasing their first top-flight league title since 1990.
But optimism abounds at Anfield after they reached the Champions League final last season and finished in the top four for the second time in a row, clear signs of progress as they chase the likes of Manchester City.
Having spent more than any other club (around 170 million pounds, according to Sporting Intelligence, 220 million dollars) on new players this summer, Liverpool fans are hopeful of a genuine title challenge.
The arrival of Naby Keita and Fabinho already had fans excited before the signing of Alisson from Roma in a world record transfer fee for a goalkeeper.
And the late signing of Switzerland winger Xherdan Shaqiri from Stoke as well as retaining last season's record goalscorer Mohamed Salah, could be the last piece in the puzzle.
However, with Manchester City flying high after winning last season and the likes of Manchester United and Tottenham with serious expectations themselves, the danger for Liverpool is that hope could translate into pressure.
At the start of his third full season in charge, Klopp knows the pressure is on to win something but he seems equipped to handle it.
"Pressure is only on the outside, that is not important really," he said. "What you say about me in three months doesn't change my life completely.
"It is exactly the same with our owners. We are completely fine. It is not as though the others (clubs) are asleep.
"The pressure comes from outside. It is probably increasing. I don't care about that. I want us to play the best football we can play and make our fans happy. That is it. What other people say, I don't care."
Klopp describes himself as a realist, knowing that he cannot promise trophies, but having already instilled a thrilling style of football, he is ready to do everything to bring success back to Anfield.
"I am not a dreamer, I don't dream that we can be there or there," he said. "Other people can do that but we have to build a ground for these dreams.
"We need to be ready for the big challenges, the big goals, we have to be this angry, aggressive, greedy team full of desire that wants to win each game.
"Can I promise next season any silverware? Of course not," he said in pre-season. "How could I? (But) we will fight for it. That is what we promised in all the years and we did it."
And Klopp said he is as excited as everyone else by the new signings.
"The new players will make us stronger, 100 per cent, starting, coming from the bench, whatever. But it will not happen in the first day.
"It is all about staying calm, looking at the situation, judging it right and then making the step. I am confident and we will be confident."