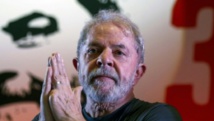 The Supreme Federal Court did not yet start discussing the allegations themselves, but one of the judges proposed that it release Lula temporarily until the lawyers' request is decided on.
The court rejected the proposal with 3 votes to 2.
Lula, 73, started serving a 12-year prison sentence in April 2018 after being found guilty of corruption and money-laundering in connection with the renovation of a beachside penthouse he was planning to buy.
An appeals court later reduced the sentence to 8 years and 10 months.
Lula's lawyers asked the Supreme Federal Court to order his release following allegations that Moro violated the rules of impartiality while working as a judge and handling the case.
Text messages attributed to Moro and prosecutor Deltan Dallagnol show that the then-judge "offered strategic advice to prosecutors and passed on tips for new avenues of investigation," according to the website The Intercept Brasil, which made them public.
The Supreme Federal Court on Tuesday also rejected a second request for Lula's release, which objected to an earlier decision by one of its judges to deny an appeal lodged by the ex-president's defence.
Lula's imprisonment prevented him from the contesting last year's presidential elections, which he had been expected to win, and opened the way for far-right candidate Jair Bolsonaro, who was sworn in as president on January 1.
Bolsonaro made Moro his justice minister. Moro denies improper conduct during the corruption investigation.
The corruption charges against Lula are linked to the massive Lava Jato graft scandal surrounding the state oil company Petrobras, in which dozens of entrepreneurs and politicians have been implicated.
A working-class president, Lula oversaw strong economic growth and falling inequality during his 2003-2011 rule. His social policies earned him soaring popularity ratings, even as concern grew about corruption in his government.