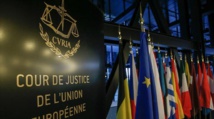 The decision to reverse Brexit would be a "sovereign" choice, the European Court of Justice (ECJ) argued. Subjecting it to the approval of other member states could end up forcing Britain to leave "against its will," the court said in a statement.
The petitioners, who initially brought the case before the Scottish courts, had asked whether Britain can reverse its decision to trigger the Brexit countdown, arguing that lawmakers should be aware of all options when they cast their Brexit votes.
The British government had sought to have the case dismissed, arguing that the question is purely hypothetical since it has no intention of reversing Brexit.
But the Luxembourg-based judges rejected that argument.
The case was handled under an expedited procedure due to the tight Brexit time frame. Britain is due to leave the EU on March 29, 2019, two years after May invoked Article 50 of the EU treaty, triggering the countdown.
If Britain were to end the Brexit countdown - a decision that would have to be taken in line with democratic process and constitutional requirements - it would remain an EU member "under terms that are unchanged," the court found.
The decision could be taken at any point before Britain's withdrawal agreement - the legal text detailing its terms of departure - enters into force, or before the Brexit countdown period has ended, on March 29 or later, if it is extended.
The judges said it would be "inconsistent" with EU law to subject that decision to the unanimous approval of the other EU members, as Brussels has wanted. This would be "incompatible with the principle that a member state cannot be forced to leave the EU against its will."
The ruling is broadly in line with the recommendations of Advocate General Manuel Campos Sanchez-Bordona, a top advisor to the court.
It could, however, open the way for disgruntled member states to trigger Article 50 in future, in the hope of negotiating better membership terms.
The British parliament is due to vote on Tuesday on the withdrawal agreement as well as a political declaration outlining joint ambitions for the future relationship between Britain and the EU.
May, whose Conservative Party is deeply divided on Brexit, has faced an uphill struggle to sell the deal to parliament. Hardline eurosceptics fear that it binds Britain too closely to the EU, while those in favour of a softer Brexit say it goes too far.