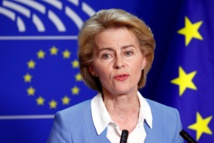 von der Leyen
"Faced with one of the greatest tragedies we have confronted in decades, Europe has no choice but to show unity and solidarity," EU Economy Commissioner Paolo Gentiloni and EU Single Market Commissioner Thierry Breton wrote in an op-ed for several European newspapers on Monday, including Italy's Corriere della Sera.
Three options look ripe to be signed off by finance ministers on Tuesday: a credit line from the European Stability Mechanism (the eurozone bailout fund), a loan instrument proposed by the commission to pay workers' wages who would otherwise be laid off, and a guarantee fund from the European Investment Bank.
Gentiloni and Breton backed these but said a "fourth pillar" would be necessary: "This could for example take the form of a purpose-built European fund that could issue long-term bonds" strictly limited to borrowing linked to recovery from the current crisis, they wrote.
Von der Leyen has been lukewarm to the proposition of jointly issued bonds, although officially she insists all options are on the table.
Instead, she wants to overhaul the EU's next long-term budget, refocussing it on post-pandemic recovery.
The 27 member states are divided over how much fiscal firepower to roll out. Some states say bonds are the only way to ensure low-cost borrowing, others fear shared liability for debt.
The bloc is facing a recession potentially worse than the one following the 2008 financial crisis.