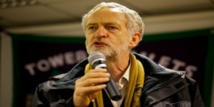 The newly-formed Brexit Party took the highest vote share but success for parties wanting to stay in the bloc left the country in further turmoil after months of uncertainty following the failure to agree an EU exit deal by the original March deadline.
The Conservative party reportedly suffered its worst election result since 1832 with media widely speculating that many of the contenders to replace outgoing Prime Minister Theresa May will now advocate a no-deal Brexit if no breakthrough is made before the new October 31 deadline.
Labour had been in talks with May to try to solve the Brexit impasse in the British parliament but had not been explicit over whether it wanted a second referendum to rubber-stamp a deal, and ended up third in the EU poll with the Conservative, or Tories, fifth.
"Now we face prospect of Brexiteer extremist as Tory leader and threat of no deal, we must unite our party and country by taking issue back to people in a public vote," tweeted Labour's finance spokesman John McDonnell, who is close to party leader Jeremy Corbyn.
The Brexit Party, launched just six weeks ago by former UKIP leader Nigel Farage, won 28 seats and 31.6 per cent of the vote with Scotland and Northern Ireland yet to declare.
The Liberal Democrats, who want a second referendum and would campaign to remain in the EU, were second with 15 seats and 20.3 per cent of the vote. The surging Greens, who also want to remain in the EU, were fourth with seven seats and 12.1 per cent of the vote.