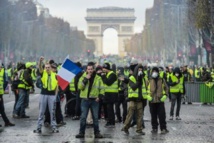 Eric Drouet was arrested at Place de la Concorde, where he and about 50 other protesters wanted to light candles in honour of those killed or injured during the movement's actions, public broadcaster FranceInfo said.
He was held on suspicion of organizing a demonstration without informing police beforehand as required by French law, the broadcaster reported citing a police source.
Footage from the scene showed police in riot gear surrounding Drouet amid boos and shouts of "Eric!" from the crowd.
Drouet had previously been arrested last month, according to the broadcaster.
One of the initiators of the first Yellow Vest protests against fuel tax rises in November, he courted controversy ahead of further protests in December by suggesting protesters could enter the heavily-guarded presidential Elysee Palace, though he later backed down.
The protest movement, which has no formal leaders or organization, has continued despite a series of increasingly costly concessions from President Emmanuel Macron's government.